Love All Serve All (LASA) Project
The Love All Serve All (LASA) is an international group that encourages Young Adults (YAs) worldwide to contribute to a repository of uplifting original music compositions based on the five universal Human Values: Truth, Right Conduct, Peace, Love and Nonviolence. It is imperative for each individual to consciously practice Human Values in order to achieve world peace. YAs from diverse backgrounds are inspired to showcase their talent while creating awareness and disseminating the positive message of the Human Values. These compositions are intended to ignite the flame of unity in diversity across the world.
LASA Theme Song Challenge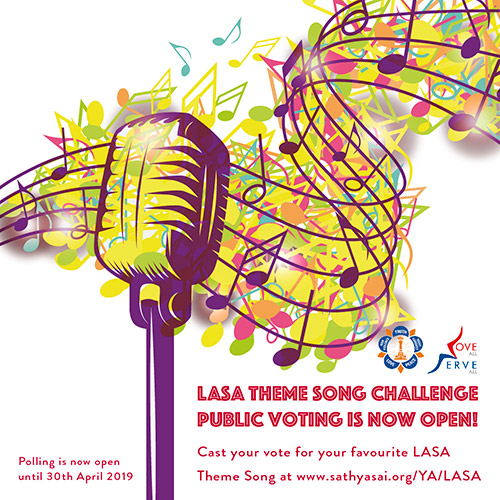 The "LASA Theme Song" challenge is an opportunity for YAs to showcase their talents by composing and producing a theme song which incorporates Sathya Sai's Five Human Values. The selected LASA theme song will be utilised in future SSIO events and programmes of the Public Outreach Committee.
The second phase of the challenge where you vote on songs from the five finalists chosen from the dozens of songs that were sent in from around the world has just completed. Results will be posted soon!