Phone Your Friend (PYF) Programme
With the grace and blessings of our beloved Sathya Sai Baba, it gives the SSIO immense pleasure in launching the above programme in association with Sri Sathya Sai Vidya Vahini (SSSVV).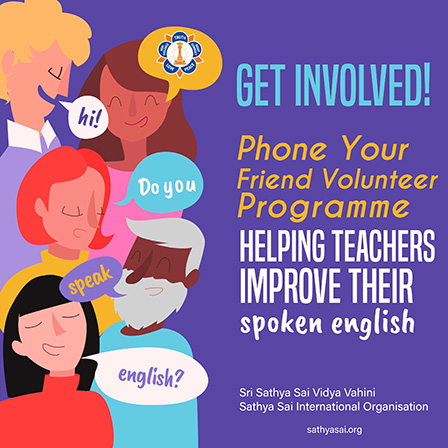 Overview
Phone Your Friend (PYF) programme is a volunteer driven component of the Mission English programme, administered by the Sri Sathya Sai Vidya Vahini (SSSVV), with the objective of improving proficiency in English among all the participating teachers, as English is both the link language and is also used in all the deliverables of the SSSVV courses. Therefore, it is essential that all teachers possess a good command of the English language for effectively communicating the course to the students.
Process
The PYF initiative functions by PYF international volunteers contacting teachers over the phone (three to five weekdays depending on each one's availability) and engaging in a 15 minutes conversation in English.
Guidebooks containing lesson plans will be provided as part of a three-level course series. The course is sequential and will cover all four skills – Listening, Speaking, Reading, and Writing. Any two skills can be practised in each call. All calls will be scheduled beforehand and is meant to be meaningful and goal oriented to ensure optimal use of time.
SSSVV will ensure that cultural sensitivities are strictly implemented. For example, gender specific teacher-volunteer pairing. State ME-PYF team will be in charge of the end to end process and will render any help as and when needed.
Volunteers desirous of enrolling for the programme can register by accessing the link:   Register for PYF Programme
Benefits
The teachers benefit from the gradual improvement in their ability to communicate in English based on sustained conversation sessions with PYF volunteers and will gain more confidence in teaching students. Virtual training provides relative anonymity emboldening teachers to speak without any hesitation.
Volunteers are empowering teachers by helping them learn English, thereby serving the society and in essence also pleasing the Lord. Therefore, the entire society (class, school, and neighbourhood) benefits from this initiative and is a self-rewarding programme for the volunteers.
Volunteer Enrollment Requirements
English language proficiency
Proficiency in an Indian language - Hindi, Telugu, Kannada, Tamil, Malayalam, Gujarati, Marathi, Punjabi, Bangla or Assamese. Kindly note, the teachers will be matched with volunteers who speak their language, to allow for second channel of communication, if needed.
Passion to serve
Commitment to the programme
Time commitment of 15 minutes a day (3 to 5 times a week)
Smartphone with access to WhatsApp and Wi-Fi connection
DOs and DON'Ts
Always adhere to the goal of teaching the English language
Keep it professional with a clear structure
Limit calls to maximum of 20 minutes per session
Timely communication regarding schedule conflicts and/or changes
If you are interested in joining please complete the form above.
For any further queries or clarifications, please email YAdeputy@sathyasai.org
Materials: